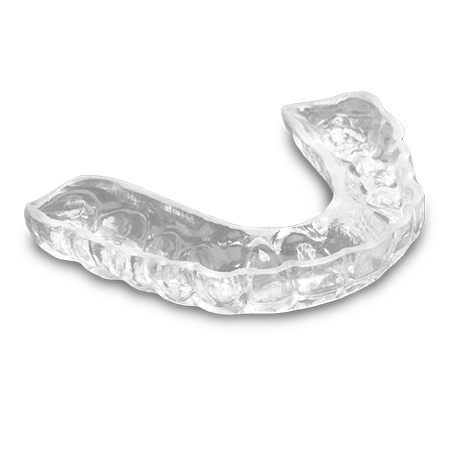 Night Guards

Protect Your Patient's Smile from Nighttime Bruxism
Approximately 10% of the population suffers from nighttime bruxism. By grinding their teeth at night, they also increase their chance of experiencing jaw aches, headaches, toothaches, TMJ issues, and damaged teeth. You can easily protect your patient's teeth from negative side effects of bruxism by prescribing them one of our high-quality night guards. We offer several night guard options that are all custom-made for your patients.
Available Night Guards:
Soft/Hard
An excellent option for nearly all bruxing patients is a soft/hard night guard. These night guards are crafted with a soft, polyurethan inner layer that cushions the teeth and gums for long-term comfort. It also has a hard, copolyester outer layer that is durable against mild to moderate bruxism. It is custom-made to fit your patient's specific teeth formation. This precision ensures that it does not slip or fall out during the night.
Benefits: comfortable, durable, and precision-made.
Soft
Mustard Seed Dental's soft night guard is crafted out of a soft thermoplastic. It is extremely comfortable and easy-to-use, making it a great option for patients who may have more difficulty adhering to other bruxism solutions. Given its softness, it should not prescribe to patients who suffer from severe bruxism, as they will quickly grind through it. This night guard is also custom-made for patients.
Benefits: extremely comfortable and precision-made.
Hard
Crafted from a hard copolyester, this night guard option is the best for patients who suffer from severe nighttime bruxism. Unfortunately, due to the hard nature of its material, it is not the most comfortable option. It is custom-made for patients, which will be helpful in maintaining treatment adherence.
Benefits: extremely durable and the best option for severe bruxism.
Protect Your Patient's Teeth with Night Guards!
It's easy to prescribe Mustard Seed Dental's night guards. Get in touch with our team today. We are excited to meet you and help you get started.